NEENAH, Wis.— Sturgeon spearers on Lake Winnebago were out Friday cutting holes in the ice. The Wisconsin Department of Natural Resources counted 4,325 shacks on the lake during the opening weekend last season. Spearers put their shacks into place, looking for the perfect spot.
---
What You Need To Know
12,693 sturgeon spearing licenses sold this year
The modern sturgeon fishery started 90 years ago in 1932
Contactless registration stations once again due to COVID-19
Lack of gizzard shad hatch should lean to leaner fish
---
"People believe in different depths of water. Some want to be right on the rock piles," said Julie Miller of Butte des Morts.
Courtesy: Julie Miller
Miller's group worked together to get everyone's spearing shack ready to go. This group usually only gets together during this special time of year.
"It's just nice to get together and everybody just kind of celebrates and has a good time," said Miller.
Like many things related to sturgeon spearing, their saw is homemade.
"You can't go to a store and buy a sled saw. At least I haven't found one yet," said Mike Hinz, who built the saw with a friend.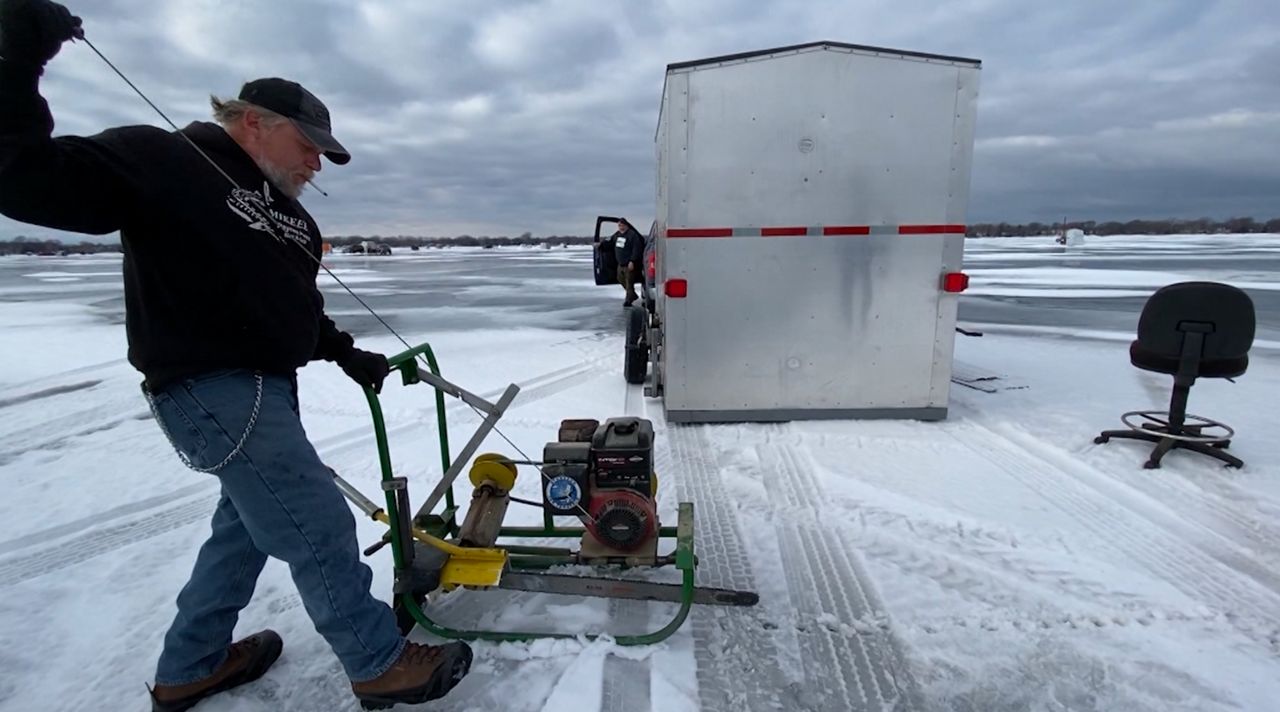 Hinz also carves custom sturgeon decoys from wood. He's seen others use toys or coffee cans to attract fish.
In sturgeon spearing, everyone has their own methods.
"Some guys are old school," explained Hinz. "They like red, red and yellow, black and white. It's whatever you want to do, just try it."
According to the DNR, last year 77 sturgeon, each weighing over 100 pounds, were brought in. But the success rate of taking a fish on Lake Winnebago was still only 12.5%. If quotas aren't hit, that could add up to a lot of quiet time over a 16 day season. 
"Sometimes you get a lot of thinking done in here. You just wait," said Miller. "A minnow excites me."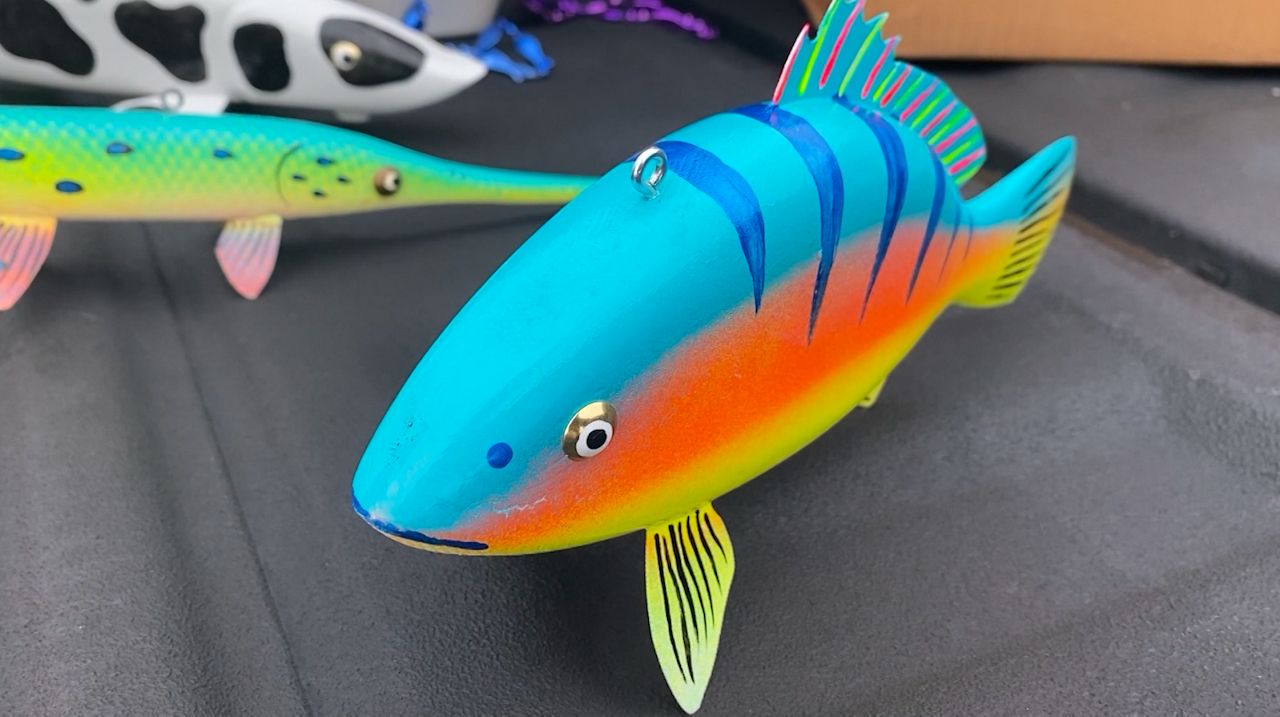 The excitement for everyone involved builds during the week leading up to opening morning.
"I often compare the opening day of sturgeon spearing to the opening day of the gun deer season," said Aaron O'Connell, DNR Sturgeon Habitat Biologist. "Especially to the folks around the area, it might even be a bigger event."
With 12,693 licenses sold this year, an increase from last season, O'Connell may be on to something.
"It's right there with it, for me anyway," said Miller. "You get a few of them and it gets into your blood. You can't wait to get the next one."
One of the biggest factors for success is water clarity. A report put out by the DNR from samplings taken in January led them to believe on Lake Winnebago the season would likely last the full 16 days with quotas not being hit.
For Miller and Hinz, things look good in their spot.
"As far as how deep it is, yeah, you can see the bottom very well. I like it when I can see the bottom," said Hinz. "Hopefully, we'll be done in an hour, but it doesn't ever work like that."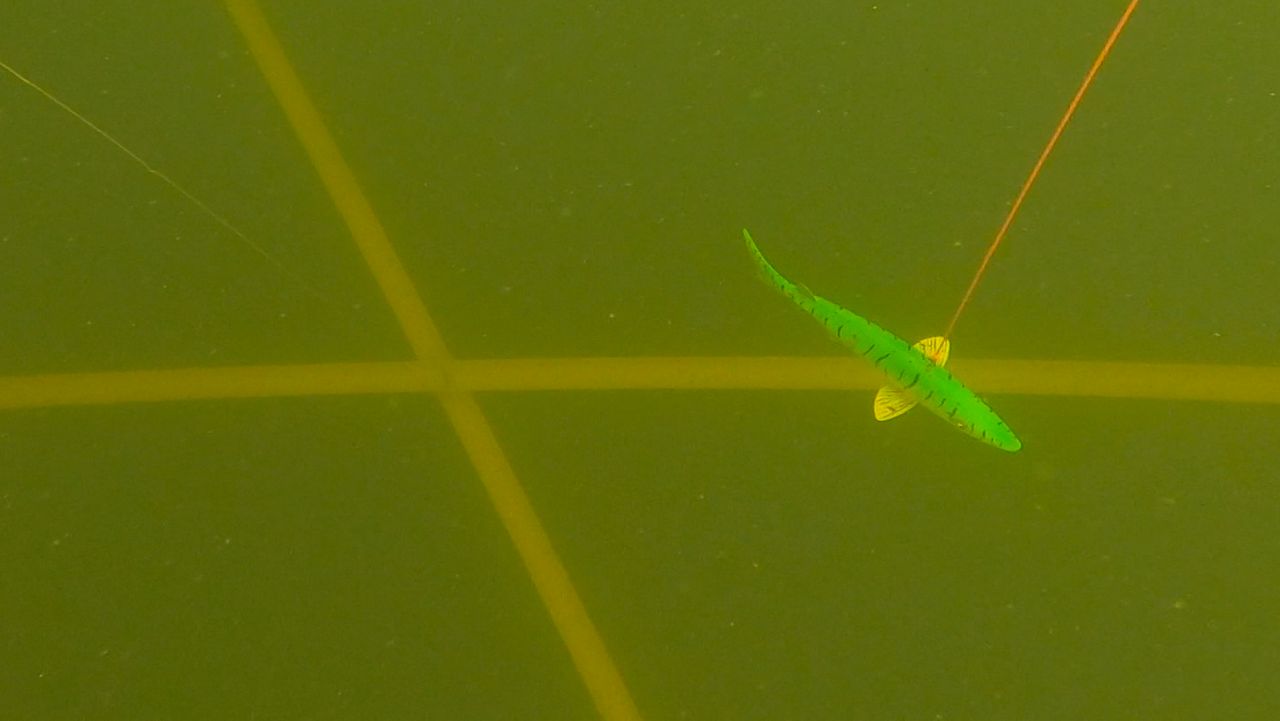 They're hoping for the best but plan on a fun time either way.​