March 21, 2022 – West Bend, WI – The saga of hiring a new chief clerk in the City of West Bend, WI has hit another delay. During Monday's common council meeting an announcement was made that "this is a tough hiring market" and the search will "aggressively resume."
Just 15 days before the April 5, 2022 Spring election the common council was slated to appoint a head clerk at its Monday, March 21, 2022 meeting.
Item No. 9 on the agenda read: Appointment of City Clerk.
Strange, however, the support material was missing from the agenda packet.
Calls to various council members ranged from surprise, to unaware of the missing documents, to Dist. 2 alderman Mark Allen who said it was "a personnel action and I'm not able to comment until they are finalized."
Questioned how an alderman could vote on an item with no background information. Allen said that could have been provided in a non-public portion of the packet. Questioned if it was he said, "No comment."
The City reportedly received 47 applications for the job. Early word is two attempts were made with job offers. According to the City there will be no chief clerk on hand for the April 5, 2022 Spring Election however poll workers and election inspectors will assist in the process.
Below is the initial story about the search for a clerk posted March 16, 2022.
March 16, 2022 – West Bend, WI – With the April 5, 2022 spring Election Day drawing near do you feel it is appropriate for the City of West Bend to have a chief clerk in place?
It was October 28, 2021 when City of West Bend head clerk Stephanie Justmann turned in her notice. Justmann was a trusted clerk in the City of West Bend who oversaw elections, poll workers, and her favorite job was swearing in new officers. Justmann started her career under Dodge County Clerk Karen Gibson; she later worked as the clerk in the Village of Kewaskum and after five years on the job in West Bend, Justmann resigned and returned to a job in the finance department in Dodge County. 
After Justmann left, deputy clerk Angel Rettler was promoted and within about two weeks she too resigned to take a job in the Village of Germantown. A post on Rettler's social media indicated people at City Hall were sad to see her go.
Kasie Miller, who was the third person in the clerk's office at the time, was promoted to Chief Deputy Clerk.  Miller came up the ranks as a dispatcher at the West Bend Police Department. She has been working in the clerk's office since March 2021 and has one election under her belt. Miller said her certification classes through UW-Green Bay will start in July 2022. Miller has been manning the clerk's office the past four months since Justmann and Rettler left. To help shore up the office the City rehired Jean Kilbourn, who retired from the clerk's office in January 2020. 
According to State statutes 62.09 (11) a deputy clerk can act as the clerk in a vacancy.
Washington County Clerk Ashley Reichert said "we're here to support them" .. she said referencing the City clerks office.
Randy Marquardt is Chairman of the Republican Party of Washington County. "Our members are extremely concerned with election integrity. We have just completed the bi-annual process of nominating election inspectors who will represent our interests at the polls. However, in terms of election administration, it is also vital to have experienced clerks who follow the law, and can tell the difference between statute and WEC 'guidance.' For the largest city in our county to have an open position for this long, running through an election, is very troubling."
Multiple calls to the Democratic Party of Washington County have not been returned.
A couple facts:
The City of West Bend recently went through a compensation study and gave across-the-board pay raises of about 4%. City officials said the increase was needed because the reason people were leaving City Hall was largely because of the pay.

After Justmann left as clerk and Rettler after that, the City waited until its compensation study was completed to publicly post the position for head clerk, which was late February.

The compensation study indicated the pay for the clerks position would increase from about $70,000 to around $83,000.

An ad-hoc committee was formed to search for a new clerk. That was made up of the mayor, city administrator Jay Shambeau and District 2 alderman Mark Allen. 

By the time the chief clerks job was posted the next election, April 5, 2022, was a little more than a month away. 

By mid-March and still no announcement of the post being filled Dist. 2 Alderman Allen was asked how many people had applied for the job. He said, "I'm not at liberty to say." Questioned whether it was public record, he said, "I'm not sure employment actions qualify as public record. I'd have to check with the city attorney."

On February 28, 2022 Dist. 1 alderman John Butschlick said he confirmed with the mayor there were two applications for the position.

An open records request was filed February 28, 2022 to see how many people had applied. On March 3, 2022 the HR department said, "The City received 47."
On March 8, 2022 Dist. 2 alderman Mark Allen called back and said, "Relative to the clerk hiring I am not at liberty, because it is a personnel action and not covered under open records." (Note the open records response above from March 2, 2022)

It is now March 16, 2022. A day after absentee ballots were mailed for the April 5, 2022 election.

The question has also been asked if the mayor will be the next clerk?

 

According to District 5 alderman Jed Dolnick the mayor would have to resign before applying for the post. We're checking to see if he would have to resign before applying for the post or if he would have to resign before accepting the post. The mayor is an elected position in the City of West Bend; the job pays a little more than $5,000 a year. Chris Jenkins was elected in 2020 to a 3-year term which ends in April 2023.

Jenkins has been involved as a poll worker in the City of West Bend. He currently works as the Village administrator/clerk/treasurer in the Village of Elmwood Park, a small community in Racine County. The term of his current contract appears to be up in May 2022. His starting salary was $40,000.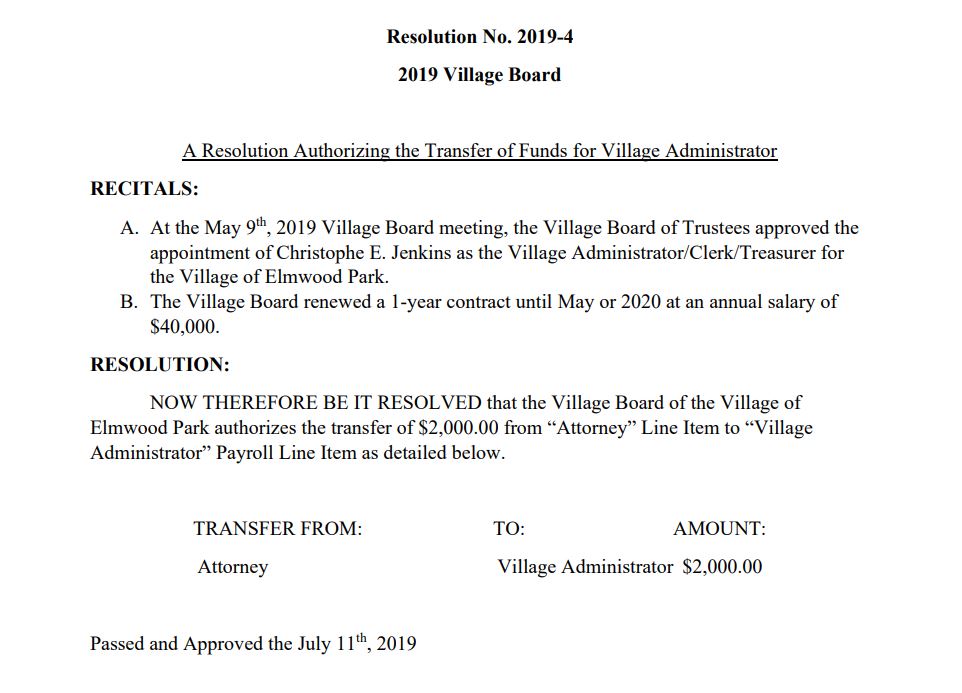 WISN talk show host Mark Belling emailed Jenkins on February 11, 2022 asking if he would throw his hat in the ring for the clerks job, even though Jenkins was part of the ad-hoc review committee to fill the clerk's position.  "Would it not be a clear conflict of interest" and "brazen cronyism" wrote Belling about the possibility. Jenkins denied he was applying for the job.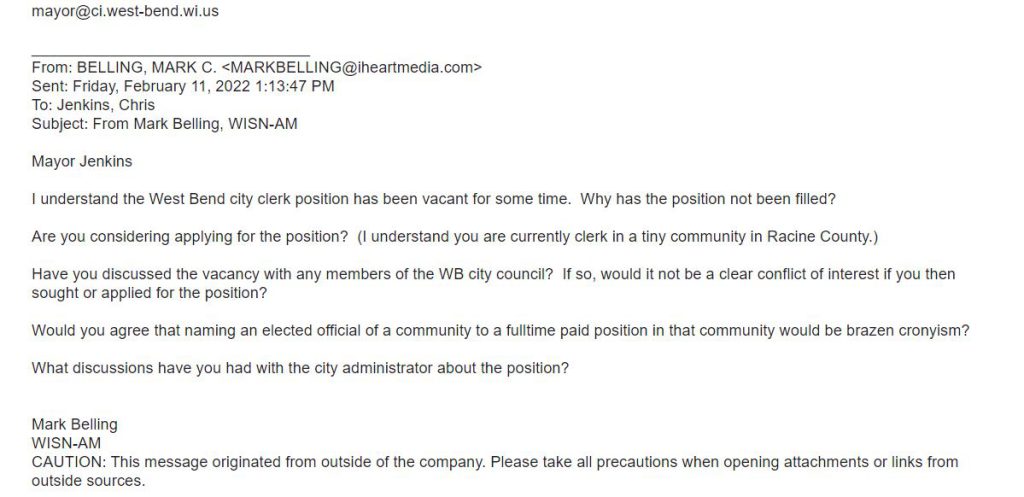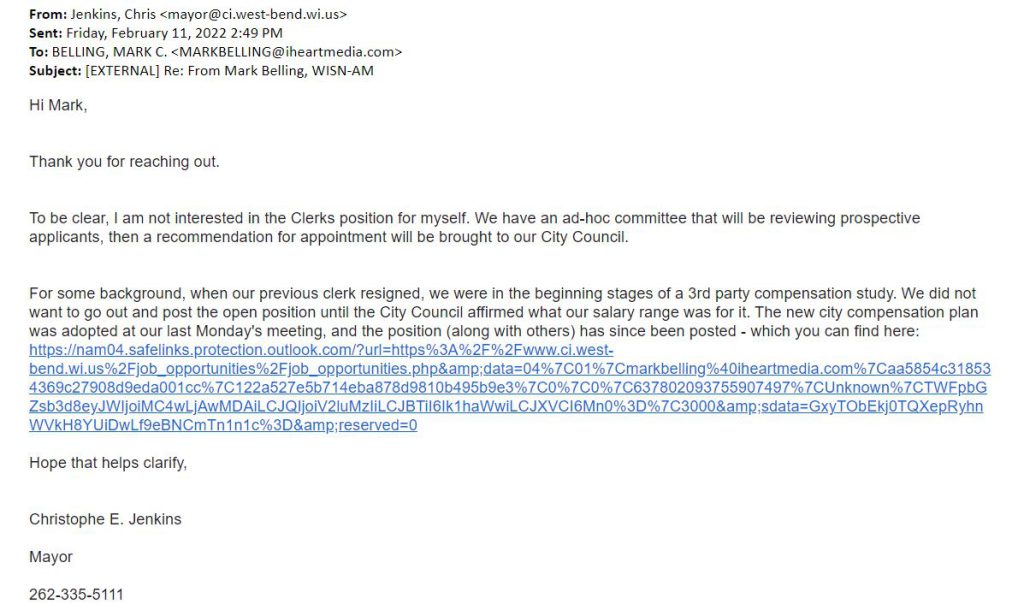 As of March 15, 2022, no recommendation for appointment of a new chief clerk has been brought before the City Council. The next council meeting is Monday, March 21, 2022. An agenda was published a day after this story originally ran March 16.
There has been redistricting in the City of West Bend, WI, polling locations have changed, poll worker training is underway, absentee ballots for the April 5, 2022 election went out March 15, 2022 and in-person absentee voting begins March 22, 2022. A hot topic in the news for the past year has been election integrity and trust along with proper ID to vote, the legality of drop boxes, and voting as indefinitely confined.
With time dwindling until the April 5, 2022 election, do you feel it is necessary for the City of West Bend to have a chief clerk at the helm?