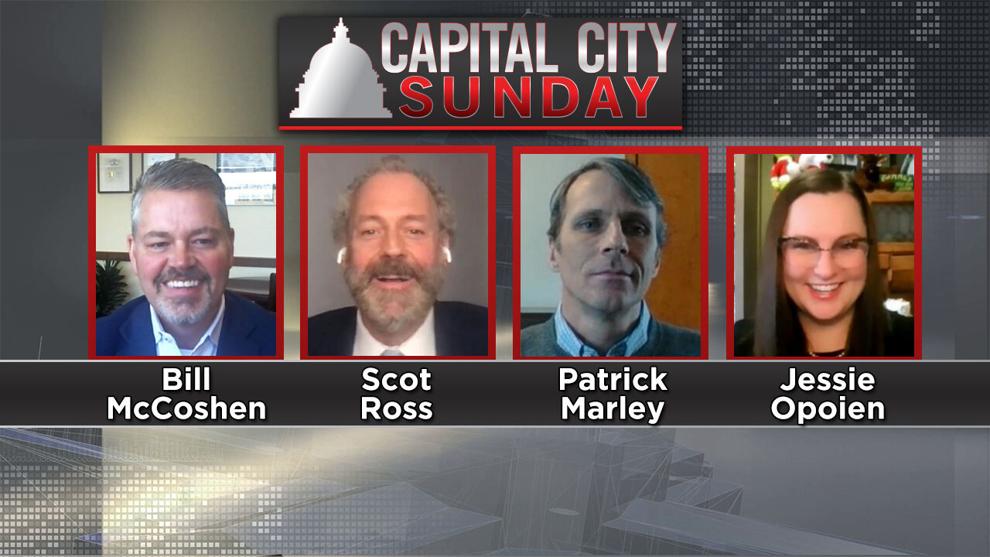 MADISON (WKOW) — One year after the worst attack on the U.S. Capitol in more than 200 years, the beliefs that inspired the insurrection influence policymaking at the state level and Wisconsin is no exception.
Grassroots conservatives groups have pressured Republican leaders, making clear their top legislative priority remains reviewing the 2020 presidential election. The certification of that election was the occasion for supporters of former President Donald Trump fighting through police to get inside the Capitol.
A flurry of legal challenges and recounts in the state's two most populous counties maintained that President Joe Biden won Wisconsin by more than 20,000 votes. Outside reviews of the election by nonpartisan state auditors and the conservative Wisconsin Institute for Law and Liberty found no proof of widespread voter fraud.
Wisconsin Republicans have continued to keep the 2020 election central to their work, however. Assembly Speaker Robin Vos (R-Rochester) is in negotiations to extend the $676,000 taxpayer-funded contract with former state Supreme Court Justice Mike Gableman to investigate the election.
Gableman has continued to issue subpoenas, focusing on the cities of Madison and Green Bay as well as the Wisconsin Elections Commission.
Assembly Republicans are also calling on the elections commission to turn over data on all 7 million voter records stored in the state's database, specifically when those voters' statuses were either deactivated or reactivated.
Democratic analyst Scot Ross said the enduring legacy of January 6 is Republican lawmakers allowing election conspiracies to become the party's identity.
"I think the tragedy of the insurrection is it is an embodiment of what the Republican Party is right now," Ross said.
Republican strategist Bill McCoshen countered the seeds of January 6 were sown when a number of large protests against police violence against Black people in Americans turned violent the previous summer.
"Whether it's riots on State Street where businesses are being destroyed and looted, or burning down businesses in Kenosha, or storming the Capitol on January 6, I think all of that violent activity is bad, it's wrong," McCoshen said. "It shouldn't have happened in any of those cases but it was normalized in the summer of 2020."
Ross countered the two instances were incomparable as January 6 involved a sitting president encouraging supporters to disrupt the certification of an election that would remove him from power.
"Protesting violence against Black people, the killing of unarmed Black people by cops, is not the same as Donald Trump standing at the end of Pennsylvania Avenue and telling people to go to the Capitol," Ross said. "And then them saying 'hang Mike Pence' and going to the Capitol."
Regarding the election investigations, McCoshen said he wanted his party to focus more on crafting its message for 2022.
"We gotta stop looking backwards and start looking forward," McCoshen said. "The reality is Democrats took advantage of the Covid issue and increased mail-in ballots beyond anything anyone had ever seen before, not only in Wisconsin, but nationally."
Strategist's Guide to 2022
Both Ross and McCoshen agreed the most consequential race in the mid-terms this year is the one for governor. Democratic Gov. Tony Evers seeks re-election while former Lieutenant Governor Rebecca Kleefisch is the front-running Republican.
"I think the executive is the most important race on the ballot every single time," McCoshen said. "Governor Evers is in a fair position but not a great position for re-election."
Ross said he believed Republicans inside the Capitol were far more concerned about the race for governor than anything at the national level, even the high-profile race for U.S. Senate where sources indicate Sen. Ron Johnson will soon announce he's running for a third term.
"That's my thoughts on it because they want to get the rest of the power to do what they want to do all across the state of Wisconsin," Ross said. "And Governor Tony Evers is the only person standing in their way."
As far as what issues would drive voters to the polls, Ross accused Republicans of enjoying the recent surge of the Omicron COVID-19 variant because the worse off more Americans are in November, the more likely they'd be to punish Democrats since they control both the White House and Congress.
"Republicans think and they are strategizing that if we make things as bad as humanly possible, the Democrats are going to lose and it is so despicable and disheartening," Ross said.
McCoshen countered Democrats would only have themselves to blame in the pandemic is still affecting peoples' lives in November because Biden vowed to put an end to it.
"The reality is Joe Biden ran on shutting down the virus," McCoshen said. "It is his biggest failure in his first year in office. There is no question about that."
Reporters' Roundtable: What Races Are You Watching?
The races for governor and U.S. Senate will take most headlines this fall in Wisconsin. However, there are a number of consequential primaries in the mid-card races that will also impact the state.
Patrick Marley from Milwaukee Journal Sentinel and Jessie Opoien from The Cap Times shared which under-the-radar contests they'll be following most closely.
"Is anyone gonna really pull away when we start to see fundraising reports coming out in the handful of races we're watching, which would obviously be the U.S. Senate Democratic primary," Opoien said.
Lieutenant Gov. Mandela Barnes is the frontrunner in the few early polls to date. Treasurer Sarah Godlewski and Milwaukee Bucks executive Alex Lasry trail the most closely in polls and have the wealth to keep their names in front of voters. Outagamie County Executive Tom Nelson also has a noticeable following and has been traversing the state as the first Democrat to get into the Senate race.
Opoien said she was also tracking the Republican primary for attorney general between Fond du Lac County District Attorney Eric Toney and former state representative Adam Jarchow.
Marley said he was curious to see which Republicans would challenge Kleefisch in the gubernatorial primary. Kevin Nicholson has supporters with deep pockets and he may be on track to get into the race for governor now the Johnson appears to have committed to seeking re-election. Madison businessman Eric Hovde could also mount a run and Franklin businessman Jonathan Wichmann is already in race, challenging Kleefisch from the right.
Marley said both the primary and general gubernatorial races will include lots of talk about election policy moving forward. He said the challenge for Republicans is satisfying the far-right support for a "forensic" audit without repelling moderate voters who are tired of Republicans questioning the 2020 outcome.
"The answer seems to be they're gonna pass legislation similar to legislation they've already passed that has been and will again be vetoed by Governor Tony Evers and so this is all gonna fuel the 2022 election," Marley said.
For Democrats, Marley said that will mean presenting Evers as the one person who can stop Republicans from overhauling the state's elections laws, as well as a number of other contentious issues like abortion and tax policy.
"I think what you're gonna see the Democrats do is portray this as an attack on democracy, say that Republicans are going to undermine the will of the voters and that the only way to ensure we get a true reflection of the will of the voters in the next presidential election is to keep Tony Evers as governor," Marley said. "They're going to be saying he's the hockey goalie, so to speak, and he can prevent what they consider bad bills on election laws from passing."
Regarding Johnson's decision to seek another term, Opoien noted both Democrats and Republicans would embrace the of campaigning for and against Johnson.
"If you talk to Republicans behind the scenes, I think that they will say 'go ahead.' Democrats want Ron Johnson to run, they want him to run too," she said.