Former Wisconsin Badgers and Green Bay Packers wide receiver Jared Abbrederis will come to Ripon College for an evening that is free and open to the public Sunday, April 3 from 7 to 8:30 p.m. in Great Hall.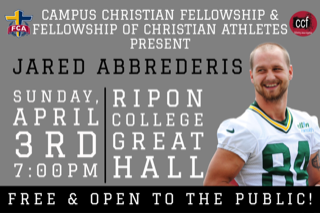 Ripon College's Campus Christian Fellowship and Fellowship of Christian Athletes are sponsoring the event. 
The Wautoma native will be interviewed for about 45 minutes about his experience as a Christian athlete.
An open Q&A time will follow.