Introduction: UK trade with Germany fell in 2021
Good morning, and welcome to our rolling coverage of the world economy, the financial markets, the eurozone and business.
UK firms have missed out on a rebound in trade with Germany last year, as Brexit frictions and the pandemic continue to weigh on the economy.
New data from the Federal Statistical Office shows that imports from the UK into Germany tumbled by 8.5% during 2021, the first year since the Brexit free trade deal was agreed in late December 2020, to €32.1bn.
But other countries did much better. Total goods imports into Germany surged by 17.1% during the year to €1,202bn, as the easing of lockdown restrictions and vaccine rollouts spurred the global economic recovery last year.
That included a 16.8% rise in imports from Germany's fellow European Union members, and a 20.8% rise in imports from China last year.
In December alone, German imports from the UK were down 18.2% year-on-year — as there was a rush of stockpiling in December 2020 as firms prepared for possible Brexit disruption.
The EU introduced checks on goods from Britain entering the bloc as soon as the Brexit deal came into effect, with experts warning that UK firms were losing their competitiveness.
The UK delayed its checks on goods coming in until 2022. But even so, German exports to the UK fell by 2.6% during 2021, to €65.4bn. Total German exports rose by 14% in the year, even as the pandemic continued to cause disruption to global supply chains.
Destatis says:
Compared with the same month last year, exports to the United Kingdom dropped by 7.6% to 5.0 billion euros in December 2021. Imports from the United Kingdom were down 18.2% to 2.6 billion euros.
In contrast, Germany's exports to the US jumped by 18.0% during 2021, as the recovery in America's economy spurred demand for industrial supplies, machinery and consumer goods.
This chart shows the details: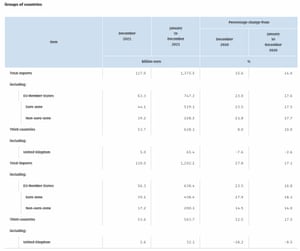 Destatis also reports that overall German exports were up by 0.9% month-on-month in December, with imports rising 4.7% compared with November 2021.
After calendar and seasonal adjustment, exports were 6.8% and imports 23.5% higher than in February 2020, the month before restrictions were imposed due to the Covid-19 pandemic in Germany.

In 2021 as a whole, exports increased by 14.0% and imports by 17.1% compared with the previous year. Exports were 3.6% and imports 8.9% above the level of the pre-Covid year 2019.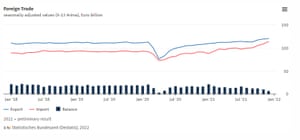 This data rather chimes with the message from a group of MPs this morning, that the main impact of Brexit on UK firms had been "increased costs, paperwork and border delays".
There could be worse to come as new import controls are introduced.
The cross-party Public Accounts Committee (PAC) reported that Brexit red tape has damaged Britain's trade with the EU. The situation could worsen unless the government works with Brussels to reduce hold-ups at UK ports
German factories have also been hit by the supply chain crisis, so will be hoping the EU's new multi-billion chip production plan can help them.
The €43bn scheme aims to overcome Europe's dependency on Asian computer chip makers, as governments and businesses around the world battle shortages that experts believe could persist for much of the year.
We'll hear from Huw Pill, the Bank of England's chief economist, later when he speaks at the Society of Professional Economists annual conference, on the "UK Monetary Policy Outlook."

European markets have open higher, with the FTSE 100 near a two-year high.
Some commodity prices are also under pressure, with aluminium hitting its highest since 2008 on Tuesday.
The agenda
9am GMT: Italian industrial production report for December
Noon GMT: US weekly mortgage applications
1.10pm GMT: Bank of England chief economist Huw Pill speech: 'UK Monetary Policy outlook"
3.30pm GMT: EIA weekly oil inventory figures
Updated